True mid-century time capsule on the market for the first time ever
This home deserves a careful restoration and thoughtful approach to upgrades.
This 2,072 SF home at 1002 W 15th Ave was built in 1955 in the South Addition neighborhood. The home is on a 14,000 SF on the west end of 15th Avenue and you've probably seen it, perched above the street on a mossy concrete embankment.
The listing incorrectly describes this house as mid-century modern when it is, in fact, mid-century and very well preserved example of it. This home has never been on the market before and is in need of careful restoration by owners that are cognizant of the value of the in-tact aesthetics and are not eager to destroy the rare details and craftsmanship by "updating" it.
The living room walls are clad in gorgeous high-quality real wood paneling with lovely built-in shelving and curio cabinets. There is some fading from the large picture windows as indicated by the outlines of picture frames that have since been removed. The floor is covered by some 1980s wall to wall brown carpeting that I'm certain is concealing original hardwood floors and the fireplace appears to be colored limestone.
Despite the damage on the ceilings consistent with flat-roofed homes, this house actually does have a pitched roof, perhaps even with vaulted ceilings and this plaster ceiling could have been installed in an attempt to improve energy efficiency.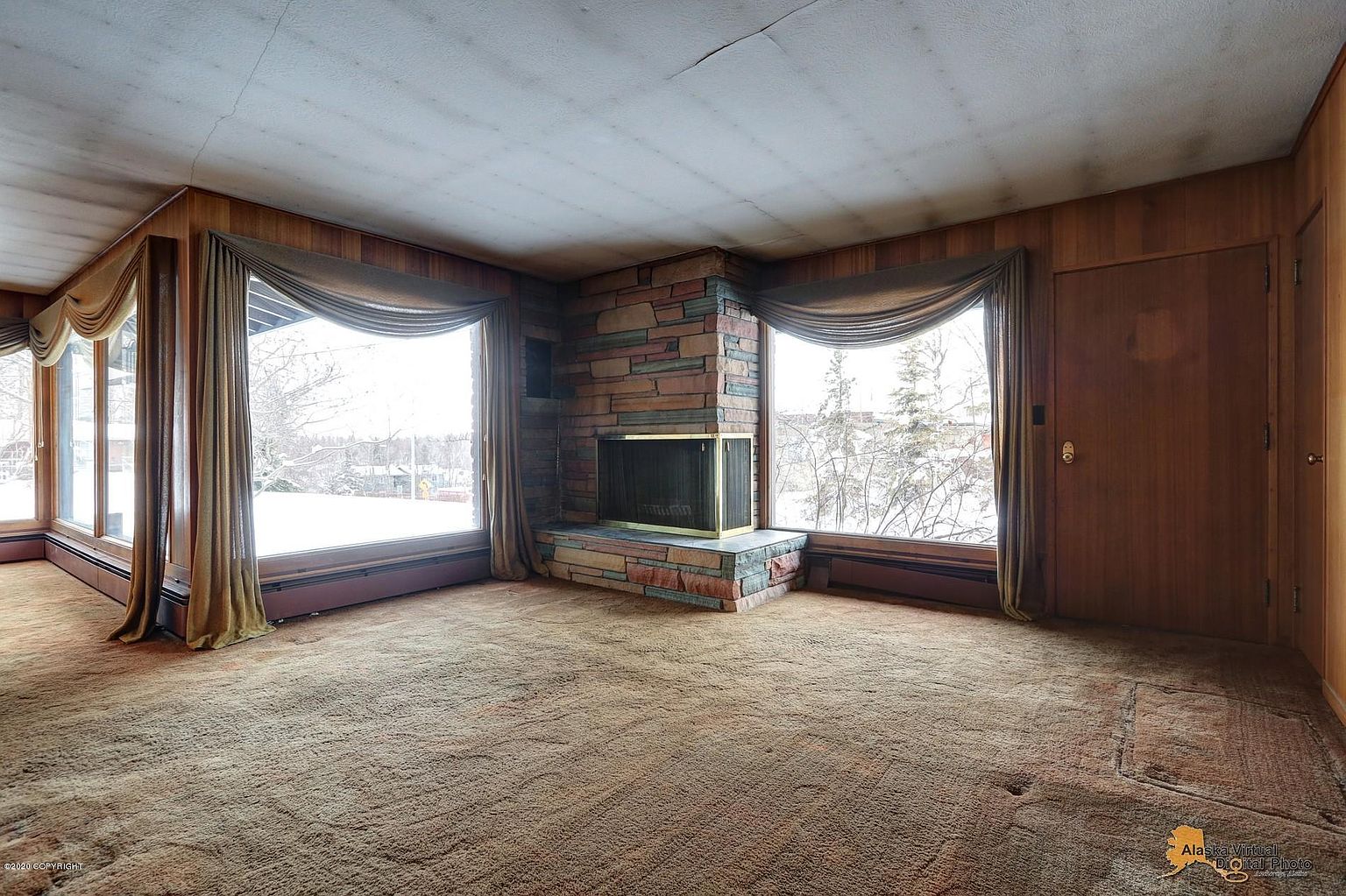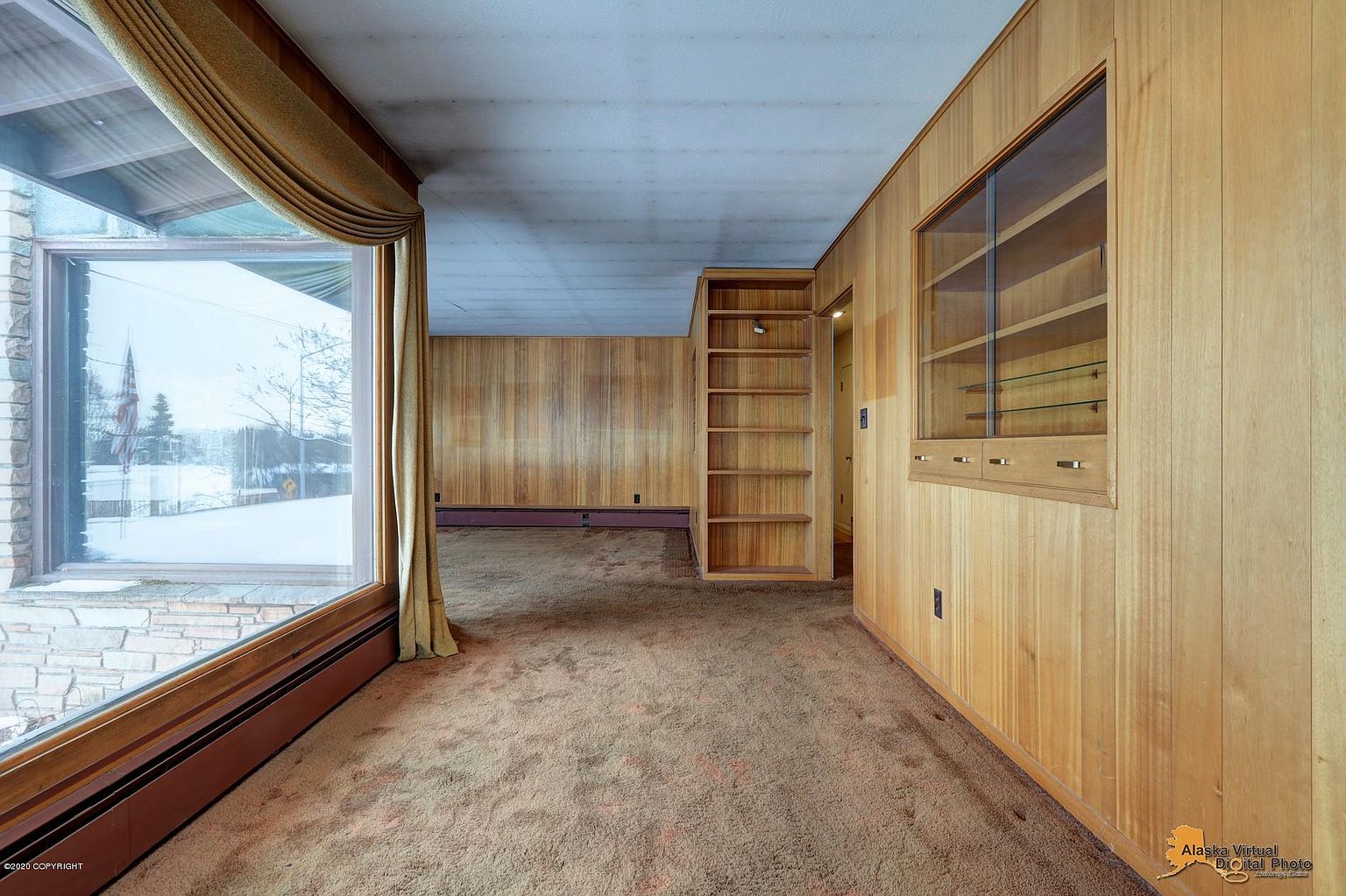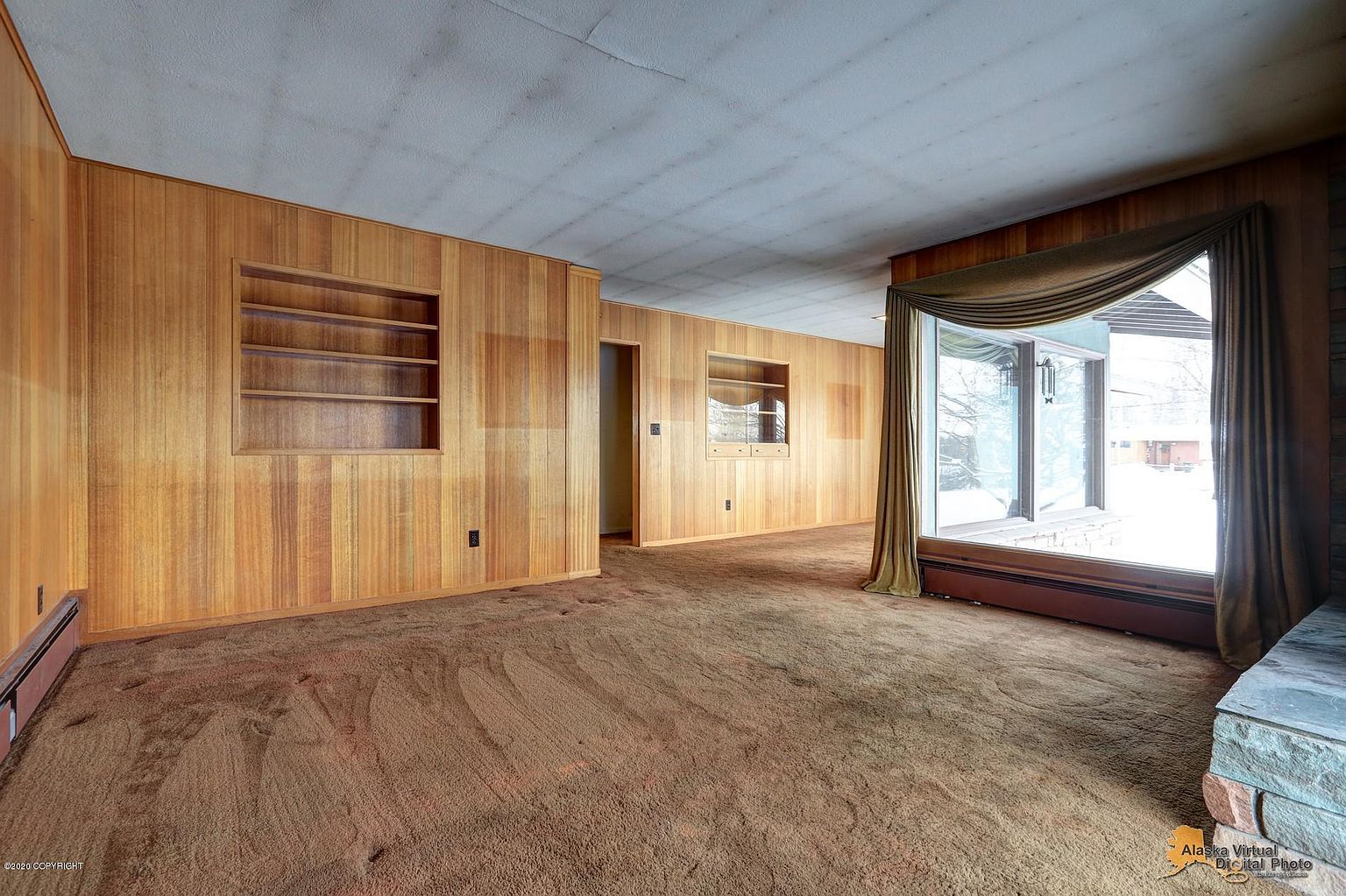 The kitchen is all original (with the exception of the fridge) with painted steel cabinets which are a rare find and very sought after among vintage home features. If a buyer was foolish enough to decide to remove them, they could be sold for a handsome sum. The countertop and backsplash tilework and kitchen sink also look to be original and in very nice condition as is the original range.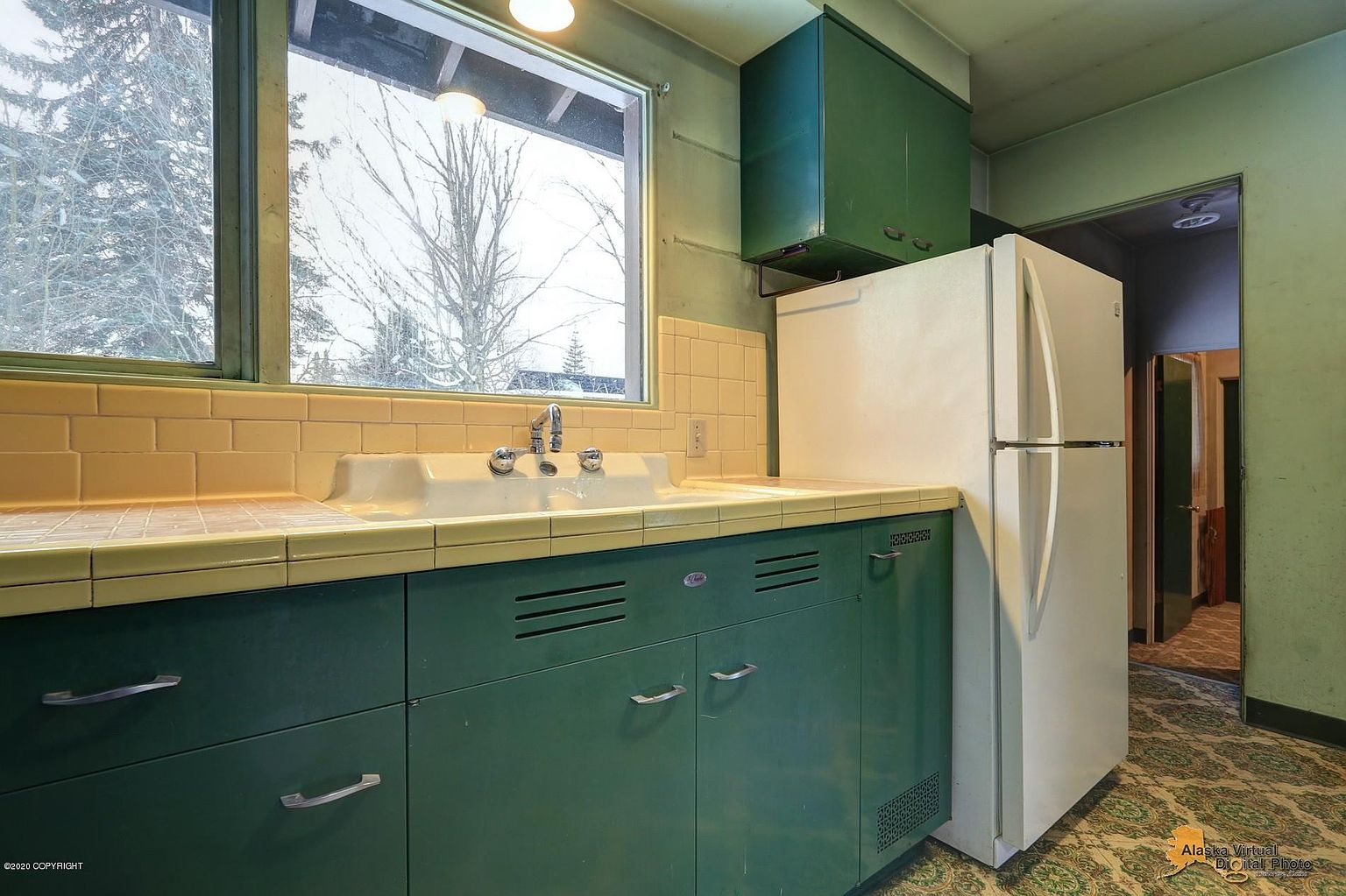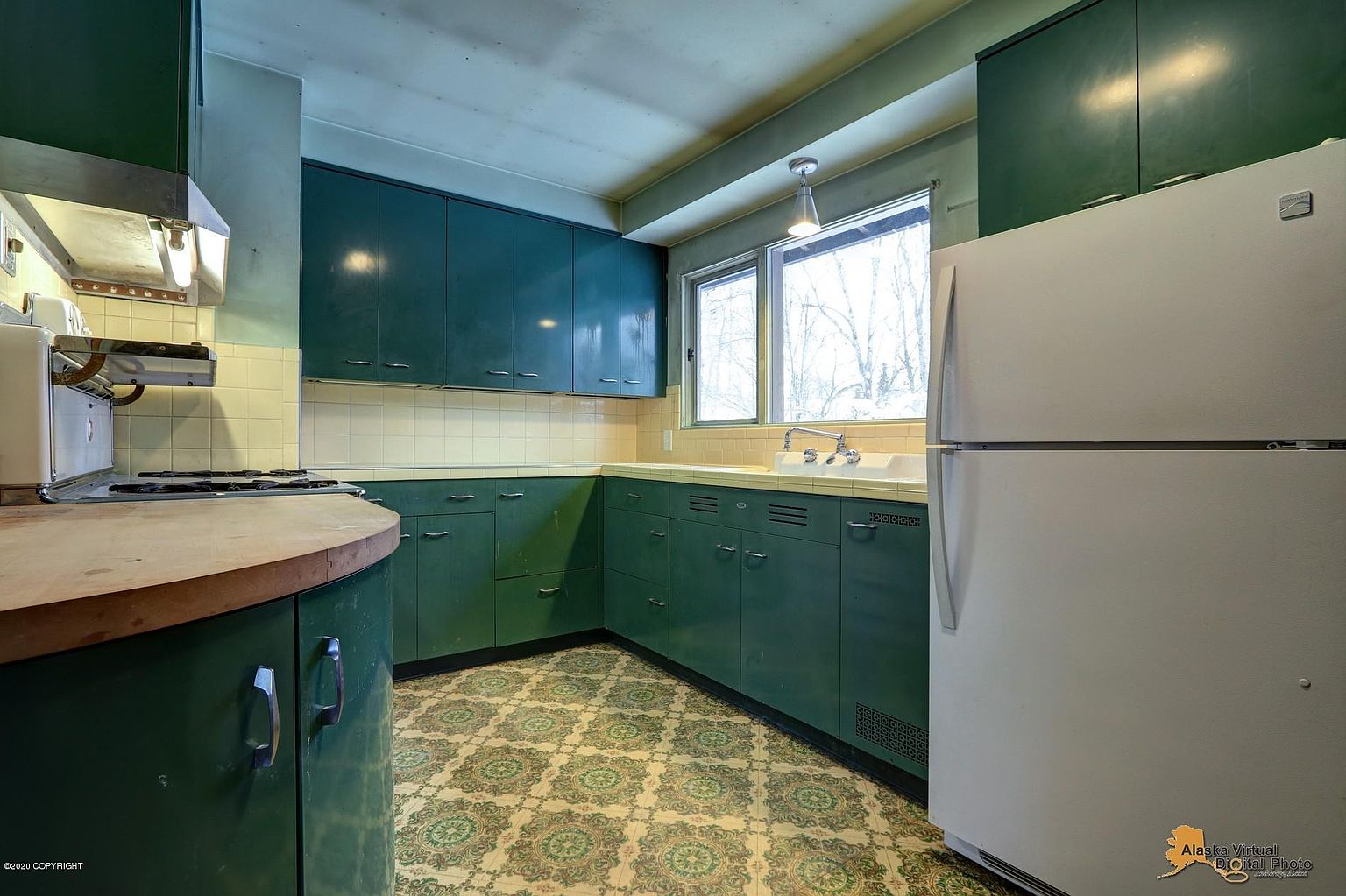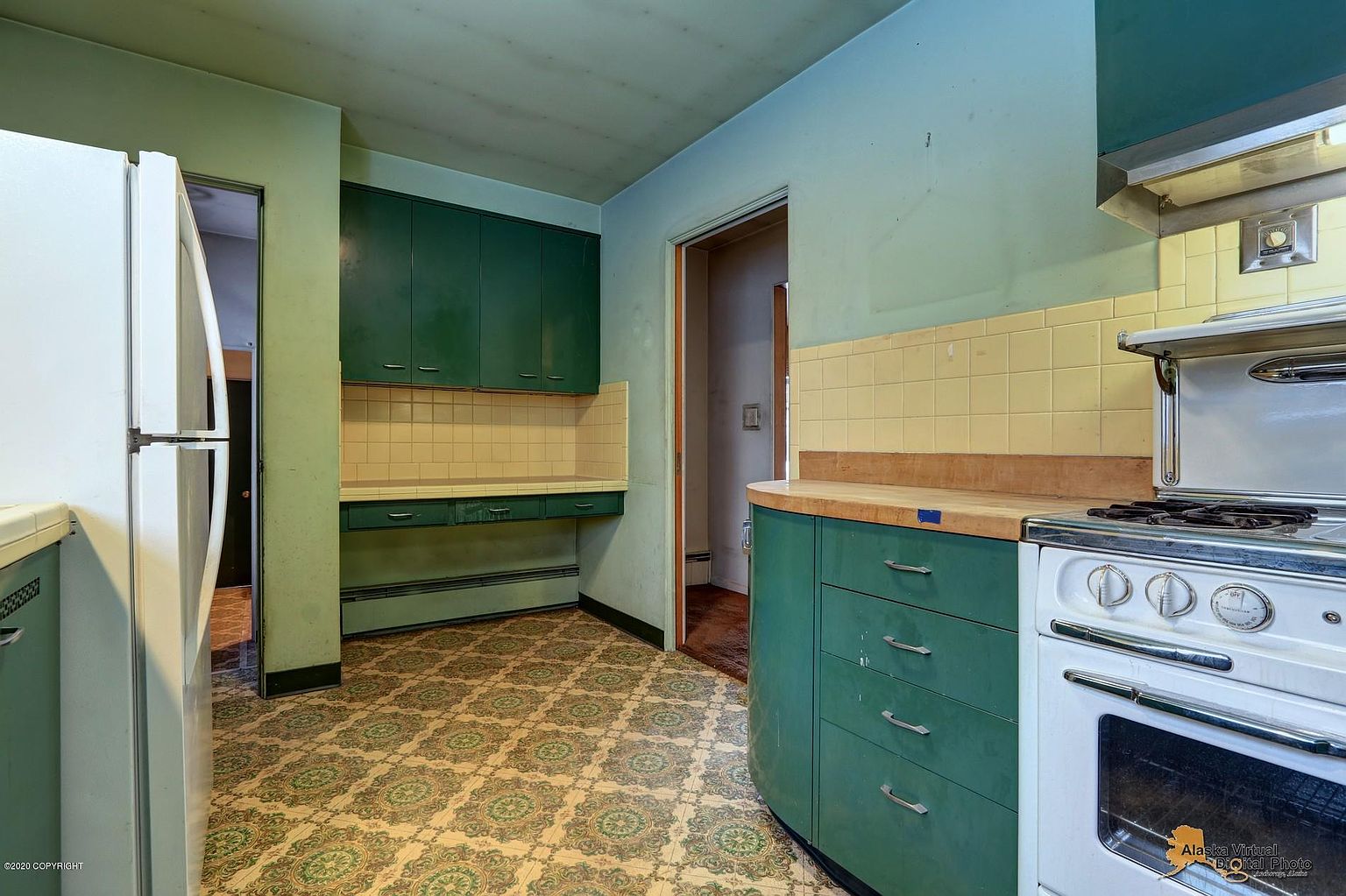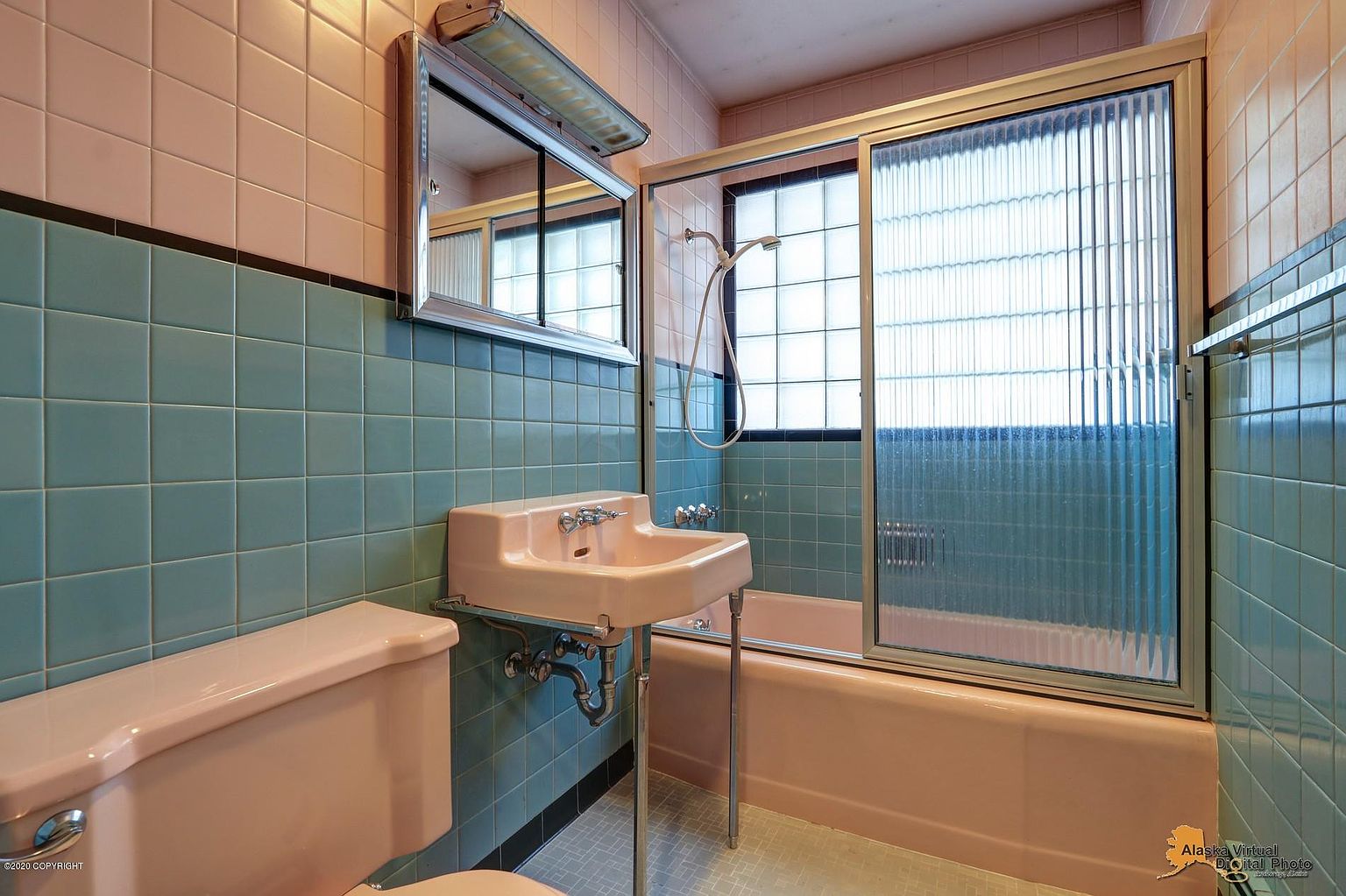 This bathroom has gorgeous in-tact original tile in tropical coral and sky blue with original fixtures and should be preserved as-is.
The basement features a fireplace and rec-room arrangement typical of mid-century homes. The flooring is original and appears to be asbestos floor tiles which may require abatement to remove. Fortunately, these look like they are in excellent condition and could be brought back to life with a professional buffer, saving the original aesthetic.
The rec-room leads to a small kitchen area with a sink and countertop to prepare snacks and cocktails for your guests. The 1950s saw the trend of entertaining guests at home come into full swing. Basements were finished to include bars, exhaust fans (for all the cigarette smoke), pool tables, etc.
The basement also features a bathroom off the kitchen area, laundry room and lots of storage closets and cabinets.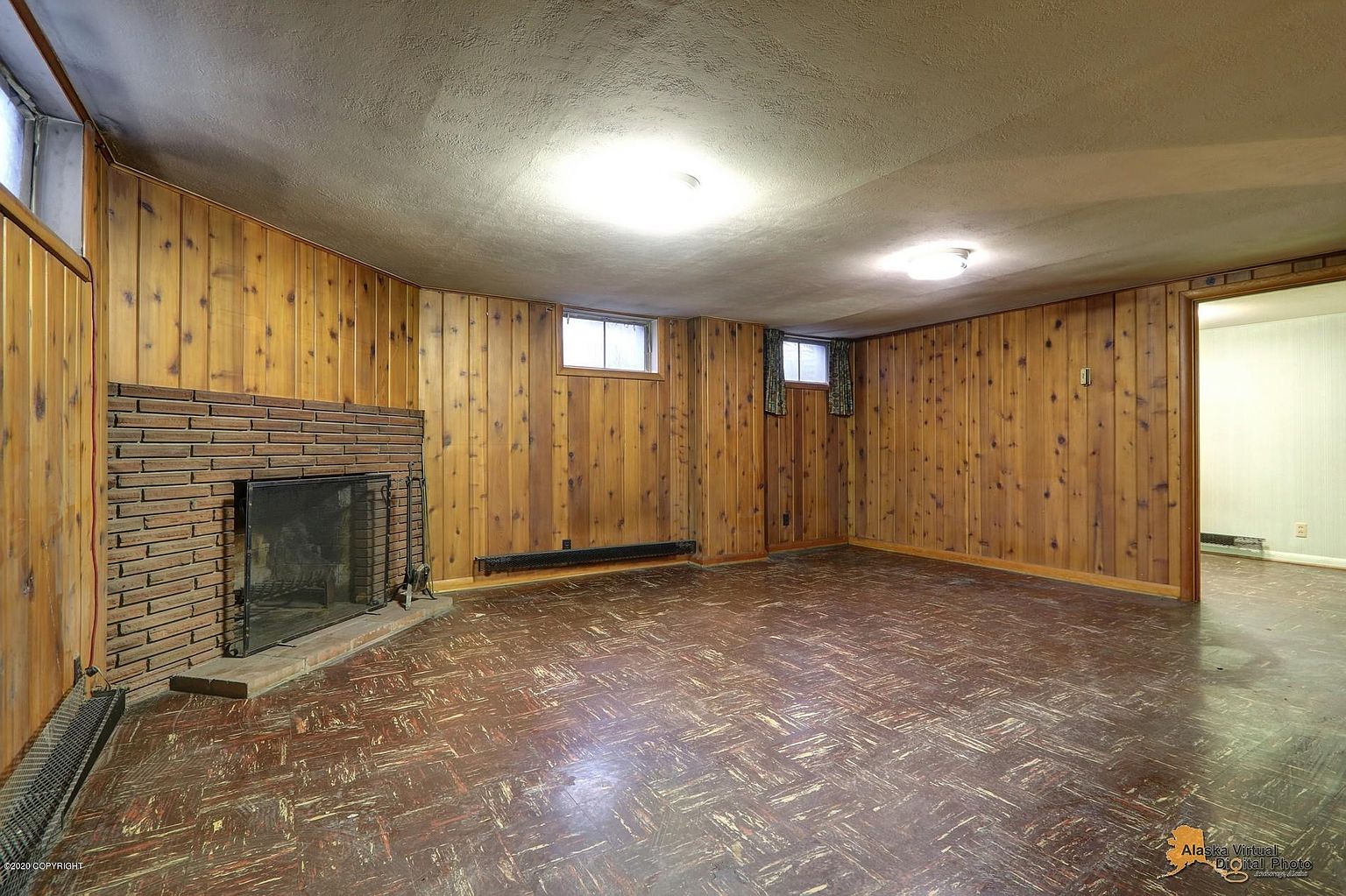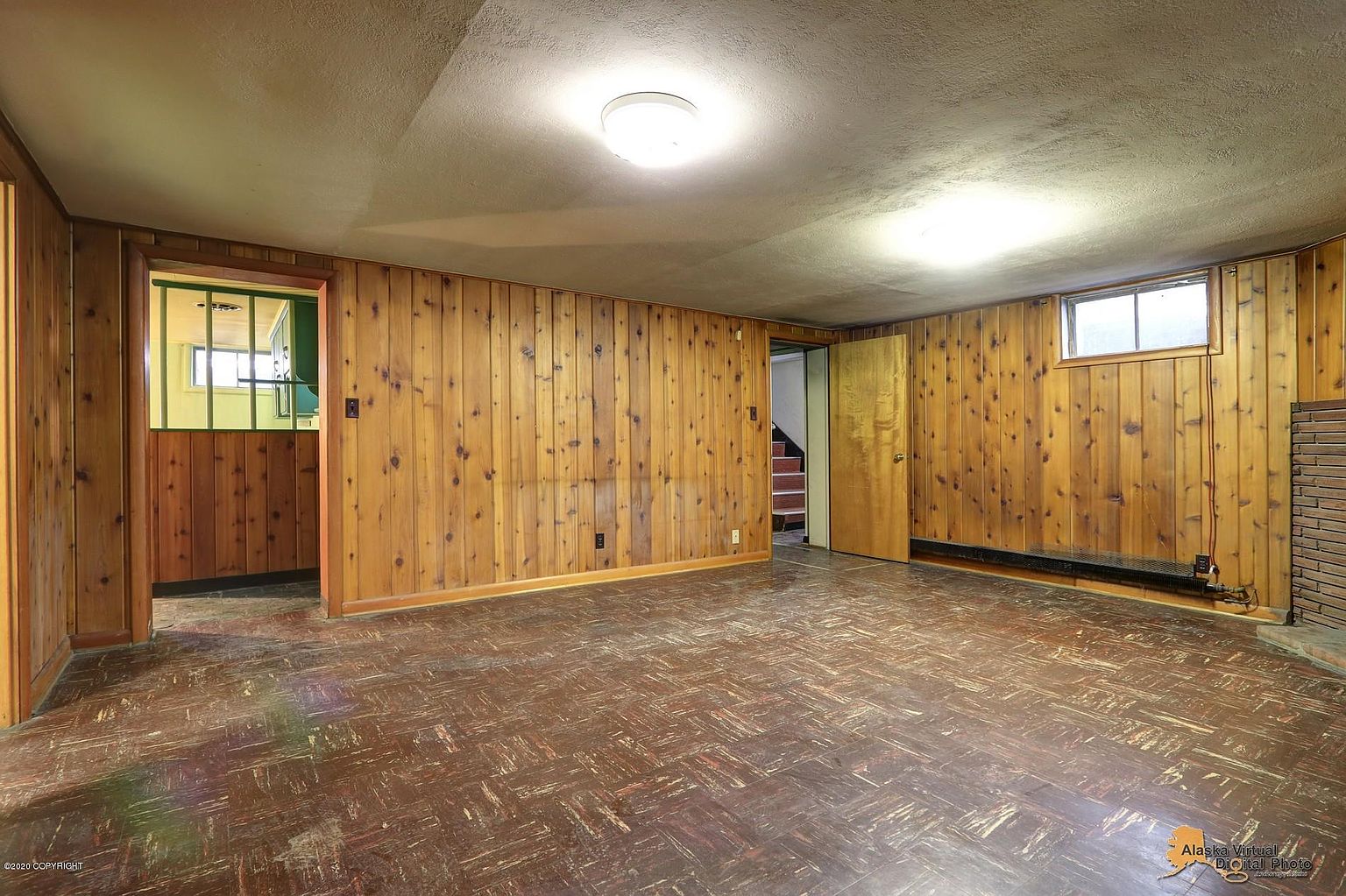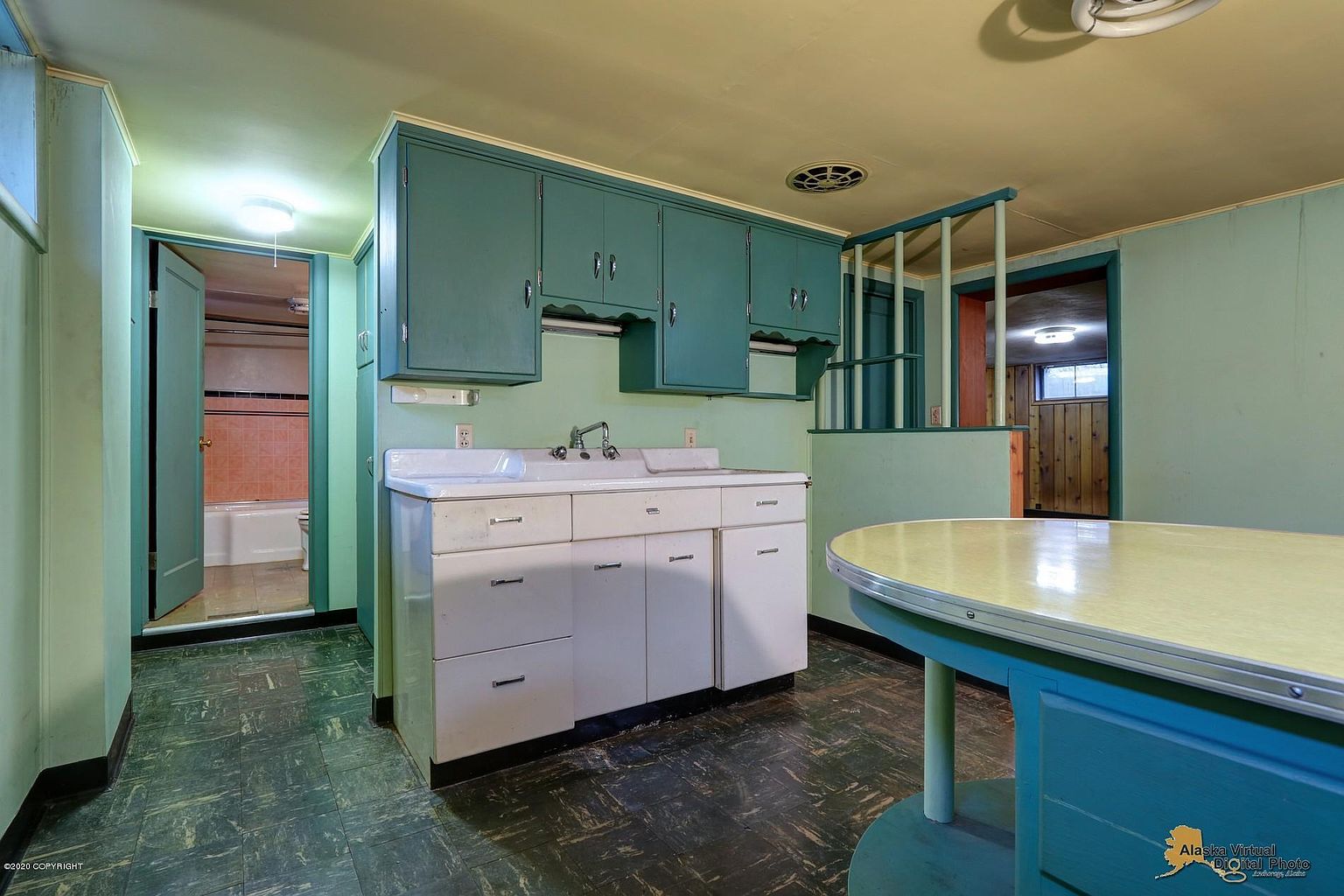 There is an attached stucco-clad single car garage that is accessible from the alley to the West. The lot is quite large and allows for some flexibility to reconfigure. The home was originally heated with an oil-burning furnace and the disclaimer states that there is a buried fuel tank on the property that will need to be removed.
The home is being sold as-is for $699K.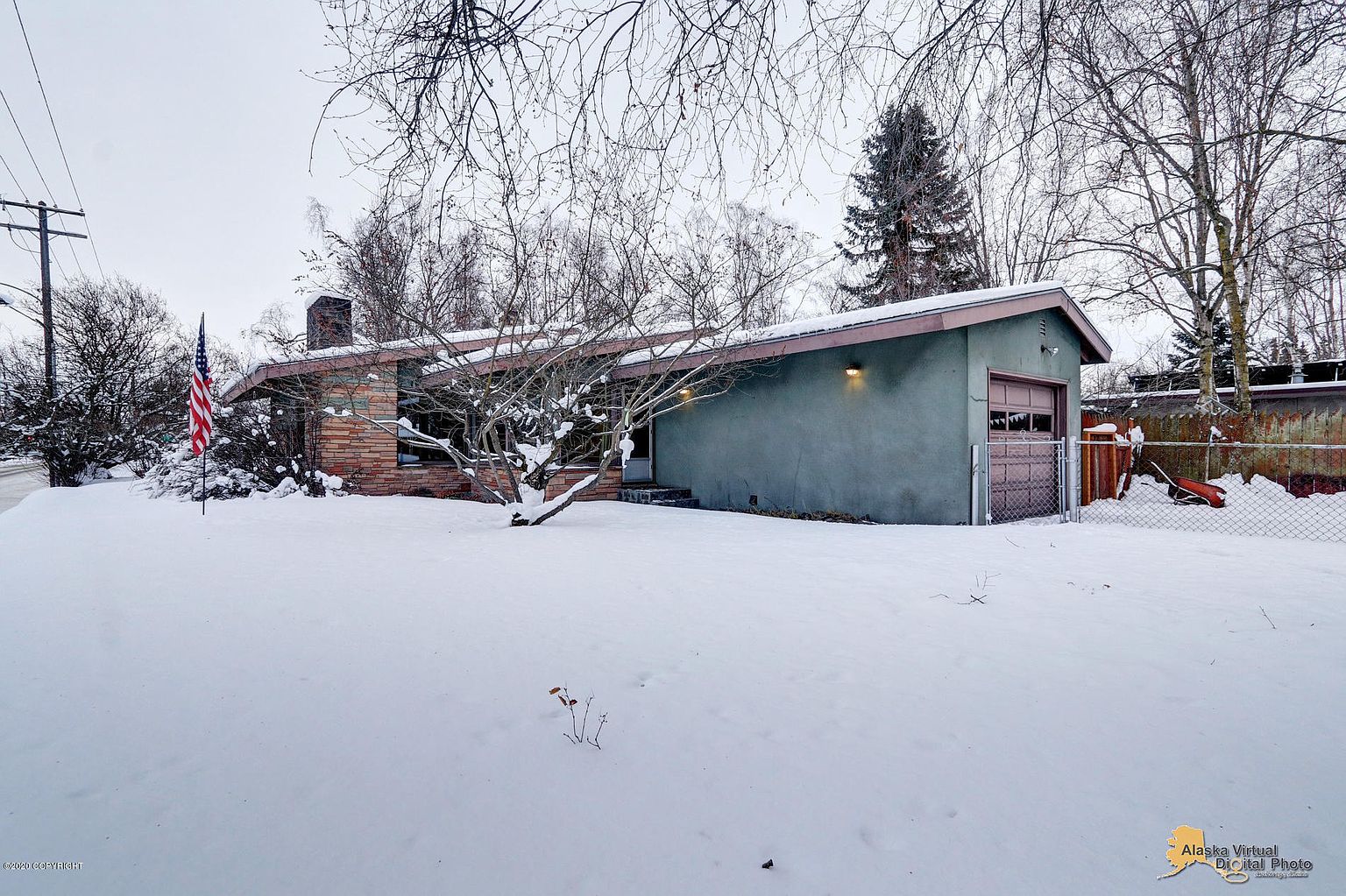 Listing Agent: Jamie Harvey. Prudential, Jack White, Vista Realty
Photos: Alaska Virtual Digital Photo, Anchorage.