Mid-century estate home on 2 acres asks $595K
Well cared for original home on wooded lot offers views of downtown Anchorage
This time capsule mid-century house at 5101 E 22nd Avenue is just south of Russian Jack Park (between Northern Lights Blvd and Debarr road) in a hidden enclave of East Anchorage that has a considerable elevation gain, affording views of downtown with a secluded feel despite being just minutes from the city.
This exceptionally well-built home is 2,128 SF with 3 bedrooms and 2 bathrooms. Built in 1959, it features key mid-century structural elements such as a central masonry block chimney that's shared by the home's two fireplaces as well as the wall oven in the kitchen. The home also has what appears to be genuine wood paneling that looks to be in excellent condition. The kitchen has very nice original plywood cabinets with the original pulls but the countertops were replaced with what appears to be granite in a color that throws off the entire look. The original cabinets are a rare find and would be a cohesive element in a modern, Scandanavian kitchen renovation.
The layout, particularly in regard to the entryway is a bit odd and could use some professional help from an architect to make it a bit more defined.
There is a detached two-car garage with a workshop space underneath, the garage appears to be unheated. The layout of the buildings could easily lend itself to a mother-in-law apartment or detached rental unit.
Anchorage tends to be a few years behind the design trends in the "lower 48", especially when it comes to homes. A mid-century house such as this would be well sought after in other markets. In Anchorage, this is (unfortunately) more likely to be torn down and replaced with either some monstrosity of a generic-looking house that looks like a face with two windows for eyes and a tuck-under garage for a mouth or, best-case scenario someone would "update it" by tearing out the best parts and "open up" the yard by removing all the trees for a huge lawn. The fate of this home may be even worse.
The listing states that the lot is zoned for over 30 units but honestly, the last thing the Eastside needs right now is more suburban apartments or townhomes. The listing even floats the idea of mining the site for gravel (goodbye view) which is something the neighbors are sure to enjoy.
The right buyer could turn this house into an exceptional private estate with a mid-century masterpiece of a home- all the elements are there. It just needs the right buyer, someone who will take advantage of what this property has to offer and improve upon it with a thoughtful approach.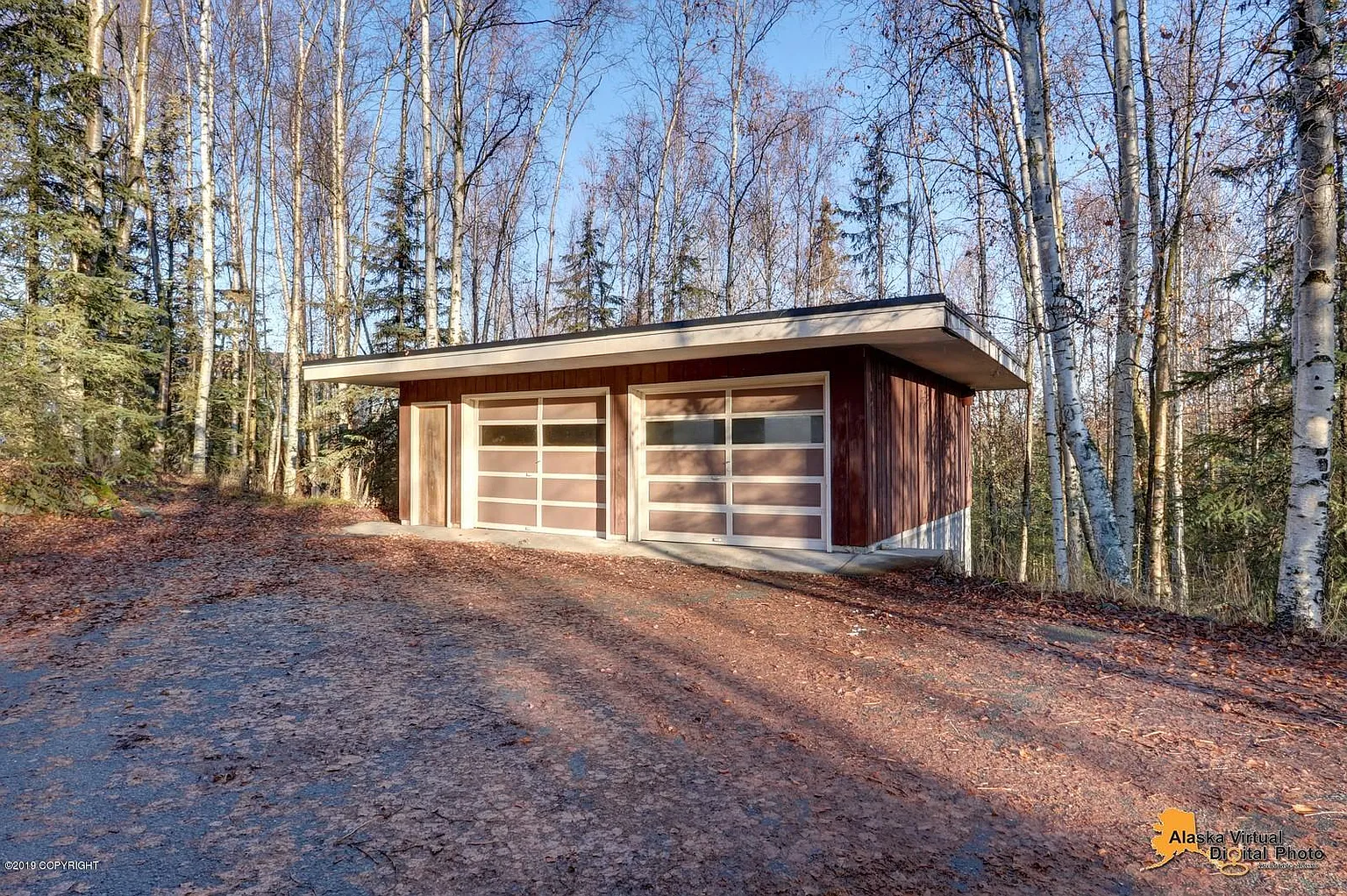 Listing Agent: Karen Custer | Jack White Real Estate
Images: Alaska Virtual Digital Photo